Renuvion Skin Tightening
Published on March 13, 2020 by Regina Rodman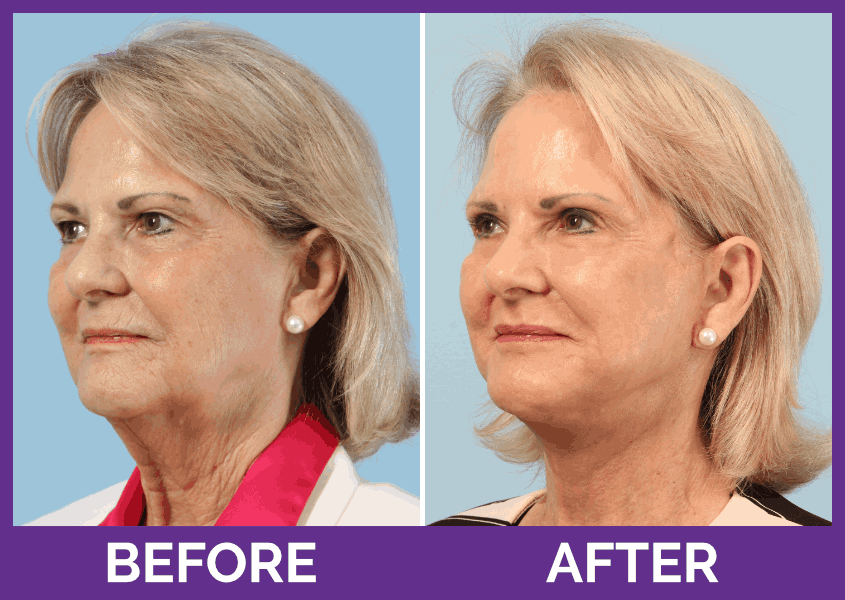 Facelifts have been one of the top 5 cosmetic surgical procedures performed for decades. As we get older, skin loses elasticity and begins to sag. We develop loose skin in the jowls and neck, and deposit fat under the chin. A face and necklift was once the standard in facial rejuvenation, but in recent years, the number of surgical surgeries is actually decreasing. Now many patients are turning to less invasive options. The trend in facial rejuvenation is to utilize technology for similar results without the hassle of surgery.
If you want to get the result of a facelift but don't want to go under anesthesia, then you'll be pleased to know that there are less-invasive options out there. For instance, there's Renuvion.
What Is Renuvion?
Renuvion is a skin-tightening solution that's also known as J Plasma or J Plasty. It is a helium plasma device that shrinks tissue. When applied to skin, it tightens the skin.
It is a minimally invasive procedure that can be done under local anesthesia in the office. It provides results similar to a facelift, but with less downtime.
How Does Renuvion Work?
The surgeon uses a device that looks like a wand. Small incisions are made behind the earlobes and under the chin, in areas that are not visible once healed. Liposuction is performed to remove excess fat from under the chin and around the jawline. The amount of liposuction performed is unique to each patient's needs. For patients who do not have excess fat, only a small amount is performed to create tunnels under the skin. Once the tunnels are created, the renuvion wand is then inserted beneath your skin.
The device delivers helium plasma radio frequency (RF) energy. This heats up the tissue quickly and causes it to contract. This shrinks and tightens the skin. The benefit of helium is that it heats up quickly, but then cools down equally as fast, which means the chances of burns are very low.
The result is tighter skin. This can give your face and neck a much more youthful look.
What Are the Benefits of Renuvion?
Because Renuvion is a minimally-invasive procedure, this comes with many benefits you over a traditional facelift.
Very Quick Procedure
A facelift under general anesthesia can take hours.
With Renuvion, you'll receive local anesthesia, which is quick and easy. Then, the treatment itself takes around 15 to 30 minutes per area. Most patients are in and out of the office in 1.5 hours.
Afterward you can walk right out of the office with just slight discomfort from the local anesthesia and the procedure.
Relatively Short Downtime
The downtime won't be as long or challenging as with a surgical facelift. While you'll need to avoid exercise for about a week, most people can resume normal activity within 3-4 days.
It may take around 2 weeks to fully recover from the procedure. During this time, you'll wear a compression garment, which will help with the swelling and buildup of fluid.After 2 weeks the garment is only worn at night while the patient is at home.
Should you experience any discomfort, you can take Tylenol or ibuprofen for relief. You won't need to be prescribed any heavy-duty painkillers for recovery. So you don't have to worry about any serious side effects from medication that'll render you unable to work or drive. Most patients say that they feel tight and a but sore, but don't experience severe pain.
Noticeable Results
With non-surgical cosmetic procedures, the main worry is that the results won't be as dramatic as surgery. With Renuvion, patients see results within a few days once the initial swelling decreases. Patients will notice a change shortly after the procedure, and these results continue to improve up to 9 months afterward. In the months following the procedure, the body responds by building new collagen and elastin. The results just get better and better!
You Only Need One Treatment
Not only does Renuvion give you amazing results, but you only need to go in once for the treatment. Many other minimally invasive procedures require you receive treatment multiple times, which can be inconvenient.
In most patients' cases, you probably only need to get Renuvion once. Of course, if you're not 100% happy with the results, you can also go in for additional treatments to get your desired results.
You Can Use It on Other Parts of Your Body
You can get fantastic results from Renuvion on other parts of your body too! For instance, it can be applied to your arms, abdomen, flanks, thighs, and bra roll.
Renuvion can be used in any part of your body where you want to tighten the skin.
You Can Combine It With Other Treatments
It's very common to combine Renuvion with other treatments. All patients get liposuction in conjunction with this procedure. How much fat is removed depends on the patient's need and goals.
Many patients will also opt for microneedling, injectable fillers or other skin treatments while they are numb with local anesthesia for Renuvion. Bellafill, and Restylane injections can be done to restore volume to the cheeks and temples while the Renuvion tightens the lower face and neck.
How Long Does It Last?
Every person's body is different, which means the effects of Renuvion will be different on you when compared to other patients.
Renuvion permanently changes the tissue of the neck and face. However, your skin continues to age. Patients should expect the results to last for years. The first noticeable results will appear within a week after your appointment, and the maximum results will finally appear around 6 to 9 months after.
What Are the Potential Side Effects?
There are very few potential side effects associated with Renuvion. The most common ones people see are swelling, bruising, and scarring. Other possible risks are bleeding and infection.
How Much Does Renuvion Cost?
The cost of Renuvion will differ from person to person, as it depends on where you're getting treated, how big that area is, how many areas you need Renuvion on, and what kind of sedation you want.
In general, most people pay around $5,000 for a neck and face treatment. To get a more accurate estimate, you should have a discussion with your surgeon of choice. After a consultation the surgeon can evaluate your needs and give an accurate quote.
Book a Renuvion Session Today
If you aren't happy with your wrinkles and sagging skin, it may be worth considering getting Renuvion. This is especially true if you're not comfortable with the idea of surgery under anesthesia but still want to get fantastic results.
Would you like to hear more about Renuvion? Then get in touch with us today to get more information or to schedule an appointment.